What's Dog Blocker?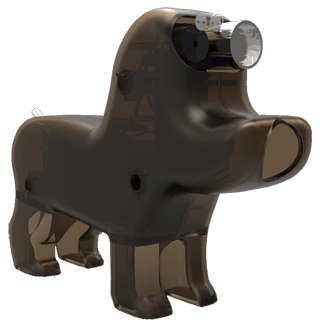 3D rendered prototype
Dog Blocker is a humane indoor dog containment and training aid without collars, wires, unsightly barricades or high cost. Place it anywhere in your home where you want to create an off-limits area: doorway, hall, room opening, etc.
With a 20 foot range, just about any section of your home can be gated off. You can use multiple Dog Blockers to protect multiple areas and a single or multiple Dog Blockers works with one or any number of dogs. Once activated, Dog Blocker waits for your dog to break the invisible barrier, setting off a humane ultrasonic siren and bright flashing lights, detouring them from continuing.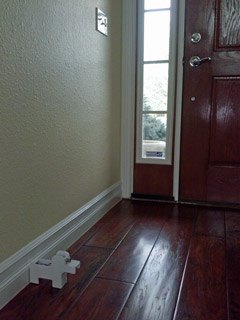 Early prototype blocking door
In training mode, there's also a human-audible buzzer which alerts you that your dog has attempted to cross the invisible barrier. The buzzer allows you to correct your dog's behavior while it happens. Once your dog is trained, Dog Blocker can be put in normal mode. In normal mode there's no human-audible buzzer, so it doesn't bother humans.
Dog Blocker's status lights blink every several seconds letting you (and your dog) know it's armed. This indicator is a training aid to your dog not to cross the invisible barrier. It's quite effective in keeping your dog away from the off-limits area, reducing the number of alarms.
Since Dog Blocker uses an invisible motion detector, there's no physical gate and you can cross at any time. When in normal mode, you can silently pass through the invisible gate without a human audible disturbance. Only your dog is restricted from going to the off-limits area.
If you're currently using dog gates, child gates or barricades to create off-limits areas, these unsightly items can be removed and replaced with Dog Blocker. Here's a video of prototype in action (in training mode).